Why every new couple should travel together – time out with Charlotte & Josh
Charlotte and Josh decided to go on an adventure together shortly after they met. In seven months, they visited Colombia, Ecuador, Peru, Bolivia, Chile, Argentina, India, China, Vietnam, Philippines and Japan. Here they share the highlights, plus their thoughts on why travelling together as a new couple is the perfect way to get to know each other!
We decided to go travelling together after only 4 months, and now we're getting married
We were introduced in November 2014 through friends and the following March we made the decision to go. So, we hadn't known each other long. We'd both wanted to travel and it seemed like a great way to get to know each other really quickly and see more of the world.
It was a high-stakes way to work out whether we were compatible as a couple in a really intense environment! It could have worked out for us or not at all, but we thought — why not? Luckily, things worked out okay.
Time goes by so quickly, and sometimes you wonder what you've got to show for it
We both have fairly intense jobs and spend a lot of time working. (Charlotte is a management consultant for Deloitte and Josh's global operations role at Study Group often takes him overseas.) We're well aware that the world's bigger than your office and there's so much of it to see.
There's a misconception about South America being dangerous
Before we went, people said things to scare us about South America, and Colombia in particular. There's this notion that people will be waiting around every corner to rob you and, in reality, it's just not like that. (We did have all of our stuff stolen in Chile, but we'll brush that aside for a minute…) Colombia was actually one of our standout highlights — it was so beautiful and friendly, and made the perfect introduction to our trip.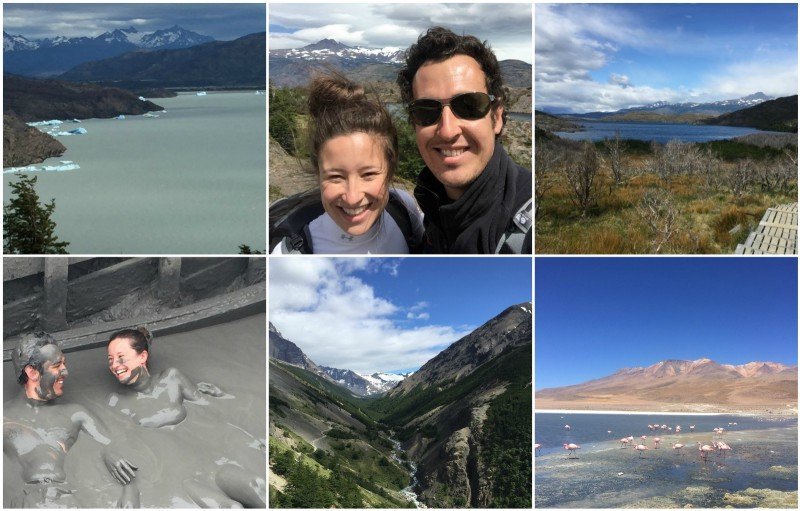 Our one hiccup was a pretty big one
We arrived in Valparaiso on the coast of Chile after having burned the candle at both ends… We'd both been unwell in Peru and then ended up having a few fun nights out with some new friends in the North of Chile, before flying down to Santiago. We rented a car at the airport, so when we got to Valparaiso at around lunchtime, we threw all of our bags in the boot and went to find some food.
Of course, when we came back, we popped opened the boot and absolutely everything had gone.
It was so frustrating. It was the only time we'd left our small rucksacks with our valuables in. We'd been travelling for almost eight weeks by then and were feeling comfortable. So all we had left were the things we'd taken with us — our phones, Josh's driving licence and one of his bank cards. We lost our bags, passports, our camera and trinkets we'd been collecting from every country we'd visited.
Dealing with the local police was a challenge and it was tough emotionally for us both. But the consulate and embassy were fantastic and eventually, after a lot of admin and perseverance, our insurance paid out too.
When you lose all your stuff, you realise how little you need
On a positive note, our bags were so much lighter for the second half of our trip! We both realised that a good pair of walking shoes and flip flops is all you need for your feet. And four bikinis when you're not even going to the beach is probably too many.
There were a few essentials we couldn't have done without, though. When we went to India, we were nervous about getting sick after being unwell in Peru. So, we used pre-filtered water bottles for everything (even bottled water) and put Bimuno pre-biotic sachets in our tea. It worked and we were totally healthy throughout. We also used our portable phone chargers loads.
Doing the W Trek in Patagonia was out of this world
Trekking and camping amongst such beautiful scenery was just an amazing experience. At that stage of our trip — just after the bags incident — we relished feeling separated from everything. Some of the landscapes there were genuinely breath-taking and the glaciers were surreal. It felt almost like being on another planet.
Josh got us up at 4 am one morning to beat the crowds to the Towers just as the sun was rising. At the time, we probably didn't appreciate it as much as we should have (Charlotte: I wanted to kill him!) but looking back it was incredible.
Going from the hustle and bustle of much of Asia to the serenity of Japan was a change we relished
Japan was the final stop of our trip, and probably my favourite (Josh). We arrived there after spending three months in India, China, Vietnam and the Philippines, with all the crazy chaos that's part of that. Japan is so vastly different. It was so easy to travel around on the Bullet Train. I loved the respect, the customs and the fact that everything was peaceful, orderly and pristine. It probably played on my OCD a bit! We'd love to revisit and go off-piste a little more — maybe for the Rugby World Cup in 2019.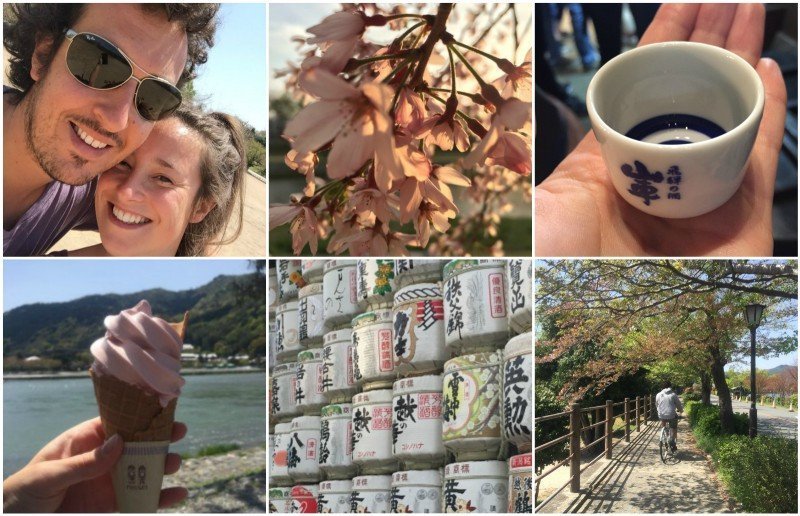 Whilst we were away, I found out I'm more resilient than I thought (Charlotte)
There were plenty of situations where we were thrown into the unknown. Rather than finding it scary, like I thought I might, I found it challenging and exciting. I was really quite sick in Peru, so much so that there were times when I felt like I couldn't carry on with the Inca Trail — but Josh was very patient and we kept going. We also met different types of people everywhere we went, and adapted to that. I didn't realise I had those elements in me.
By the end of 7 months, I realised I was starting to crave elements of work (Josh)
By that, I mean I missed some of the mental challenge and routine that work brings. When you're away, you can satisfy your need for achievement — you just climb up that mountain or give scuba diving a try. But I definitely missed intellectual stimulation more than I thought I would. And whilst at first a lack of structure feels quite liberating, after a while, I actually missed it.
We definitely learned a lot about each other travelling together as a new couple…
(Charlotte) I realised that Josh has a fear of flying things and especially bats, which was a surprise! Also, whereas I'm bordering on reckless at times, Josh is more cautious and approaches things with care and attention. We did a lot of things in the way that locals would do because Josh made the effort to research them. I really like that about him.
(Josh) I learned that Charlotte has an incredible amount of patience — a necessary quality for spending seven months with me! I love her laissez-faire attitude — she just goes with the flow and is more spur of the moment.
Our travels were a bit of an education in perspective
When you travel, you take something with you from every single place you visit. We saw people living in completely different worlds to ours and, as part of that, witnessed a lot of poverty. When things get too much at home, that pops into your mind — I'm missing a deadline, things could definitely be worse. It gives you perspective, which is easily lost when you live in a sheltered environment at home.
Back home, I noticed how stressed everyone was (Charlotte)
My company, Deloitte, gave me a sabbatical so I went back to the same job. For about the first six months, I was really relaxed — almost as if my mind had reset — and I wondered why everyone seemed so uptight. I felt more mature and as if I'd had a real learning experience and a break. Then, I started to feel the stress creep back in… And now I feel like I need to go away again!

When you're travelling, you miss your home comforts. But when you go home, you crave being away (Josh)
Coming home was nice in a lot of ways — being back around friends and family, not having your life on your back, being able to wear more than the 5 t-shirts you're carrying around with you, being able to go out for a meal without monitoring what you're spending…
I'd resigned before we went but ended up going back to a better job at the same company. We also moved in together when we came home, so it was another new chapter for us.
Over time, I've missed being away again — but isn't that part of life?
We'll always have that travel itch we want to scratch
There are so many places we want to visit. Surfing in Indonesia is very high on the bucket list. Also, Central America, New Zealand, South Africa, more of Japan and other parts of Asia… In fact, it'd be easier to name the places we don't want to visit!
We do talk about travelling again fairly often. Ultimately, it's about how things stack up against our other priorities — our jobs, buying a house, starting a family. We've just moved out on our own together for the first time after living with Charlotte's sister, and we're getting married next year. But, if the opportunity presents itself in the future and the timing makes sense, we'll go.
A big thanks to Josh and Charlotte for sharing their story — and entertaining us with photos of Josh's growing locks.
Take time out for a life adventure.
Do you dream about escaping your routine and going on a far-flung trip of your own? Whether it's 3 weeks or 3 months, we'd love to help. Book in a free exploratory call here to get started.
No immediate travel plans? Why don't you come over and join us on Instagram?
Team Faraway x