What a six month sabbatical teaches you about marriage and life – time out with Sam and Pete
Sam and Pete are a couple of travel fanatics and management consultants living in Surrey, currently expecting their first child. From Sept 2014 — March 2015, they travelled in South America and Australasia together. Here they share their story with us and reflect on what a six month sabbatical teaches you about marriage and life.
So, let's start at the beginning. Why did you decide to take time out? What led up to the decision?
Pete: We've always loved travelling and we dream of seeing as many countries as possible. When we got married in 2012, we thought about taking some time off as we wanted to experience the world together as part of an extended honeymoon. But, with the effort of organising the wedding, we decided to have a shorter but more luxurious honeymoon, and then take a six-month sabbatical further down the line once we'd recouped costs and energy.
Sam: I was particularly keen to separate the two things out, rather than have the excitement of the wedding and then straight away the trip… I wanted to give enough time to each of them. We'd actually been talking about it for ages, well before we were married. Probably seven years! We always wanted to do it — it was just a question around how long to go for and the timing.
How did you choose where to go on your sabbatical?
P: Firstly, we wanted to take our sabbatical over the English winter, which led us to the Southern Hemisphere. We wanted to see new countries together, and I'd also always wanted to go to New Zealand and Australia. Sam had actually already been before, but we have friends and family over there we wanted to visit….
S: And I was very happy to go again! We did consider a volunteering approach, which would allow us to see a couple of places for a longer period of time — but ultimately we decided we wanted to see as many places as possible together. So, we chose Latin America, New Zealand and Australia.

And how did you decide on a six-month trip?
P: We spoke to some other people who'd been travelling, and six months felt right for us. Some went for a year and loved it. Others felt that was too long and missed home towards the end. For us, a year wouldn't have been so easy financially. We'd have needed to cut back on flights, some of the nice places to stay along the way and a few of the big experiences.
We wondered if we should just go for three months from a work perspective, but time flies by so quickly. People we spoke to who went for 2–3 months regretted not taking longer.
Did you have any worries or hesitations about going?
P: Whether we'd get to the end of the trip without killing each other (Joking!)
S: Honestly, no. There were definitely more logistical challenges than when we'd both gone as students. We needed to think about moving out of our house, finding somebody to rent it, making sure the mortgage was covered, planning how we'd handle it if something went wrong with the tenant… but that didn't put us off at all.
P: We're both lucky that our companies have sabbatical polices that allowed us to take up to a year off with a guaranteed job when we returned. It's probably easier because we both do client-facing project work.
Did you have a favourite place you visited? Why?
P: We discussed this at length when we got back home! Each country was different and had its benefits and disadvantages, but one place that sticks out in my mind was the Atacama Desert. That first taste of Chile was very special for me. I'd always wanted to go and the fact that we arrived there from the Bolivian Salt Flats made it quite a special experience. Plus, I loved the isolation and types of activities you can do there.
S: We've always said our favourite was between Chile and Ecuador, but I think Chile just about wins it. It was really diverse — going from the Atacama Desert, to funky little beach towns, to walking around Pukon, sledging down Villarrica volcano and — despite the pouring rain!! — I do look back on Patagonia with fondest memories. I remember saying "We WILL go to the top of the Valle de Francés even though I can't feel my hands or feet! We've come here to do the W Trek! We are going!" even when we got to the top and were scrambling up and couldn't see anything…
(This is the very day we met Pete and Sam, thawing out in a refugio in Torres del Paine with a carton of Carmenere!)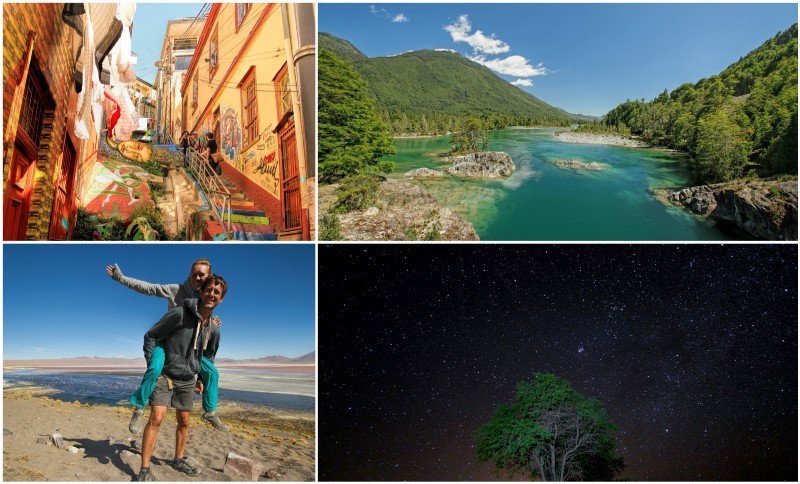 Were there any major hiccups or challenges? How did you deal with those?
P: I think the biggest moment was crossing the border from Ecuador over into Peru. We got off the bus and a taxi driver collared us and said "I can take you across — it'll cost you this". We'd read that this was the normal route so agreed, but then once we'd got into Peru and over to the next remote town, he asked us for an inordinate amount of money. Luckily Sam speaks fluent Spanish and was able to say, "No, we're giving you what we'd agreed" and we held firm. It felt quite unsettling, though.
S: Another one was probably getting hit by two hurricanes in Australia! It was an insane experience waking up the next morning and seeing half of the road ripped up and signposts bent double — but pretty cool, in a way.
Oh, also, breaking down in NZ…. We got our camper-van and somebody had put diesel into the water tank. We were cooking and realised the water was white, and then Pete came out of the shower smelling of petrol. So, we had to get all of that cleaned out. Fortunately the owner of the vineyard was very generous and very eccentric, so we just drank wine and carried on.
P: It wasn't all disasters, we promise!
Did you learn anything new about yourselves during your six month sabbatical?
P: As a couple travelling by yourselves, you have to talk things through. Not telling each other if something's bothering you just doesn't work when you're living out of each other's pockets. That's why I think some people break up after these sorts of trips. Six months and 24/7 is a different experience and you've got to be ready for that. But we're better for it.
S: That change was even bigger for us because I'd always worked out-of-town, so physically during the week, we weren't together… Then all of a sudden we were sharing a campervan!
Together, we also learned more about what we enjoy and what we want to experience in the future. It's opened up our eyes and we're far more open to the idea of living elsewhere for a while now. So, it wasn't about learning each other's pet hates, gripes and annoyances but more what we want to get out of life.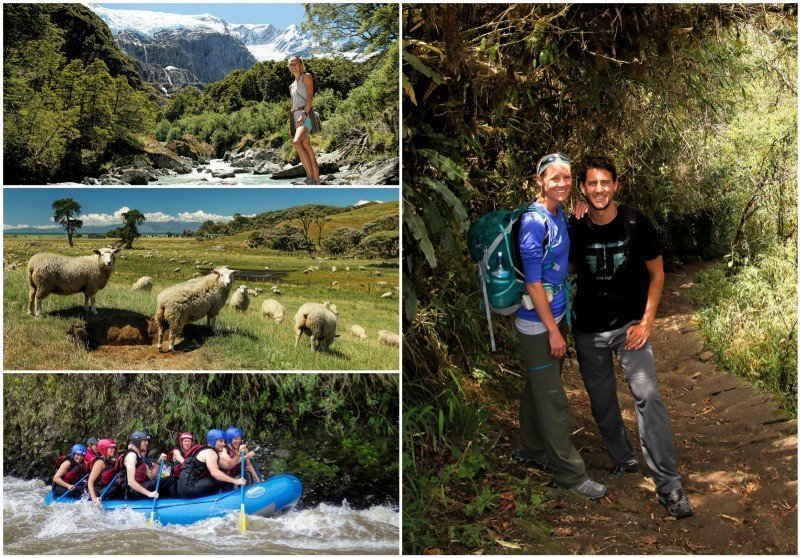 Looking back with what you know now, would you approach your sabbatical any differently?
P: The route, where we went, how we did it.. I wouldn't change any of those things, because I loved every single minute of our trip.
The best thing was that we had flexibility in our schedule. The only things we couldn't shift were our flights into South America, over to Easter Island, over to New Zealand and across to Australia. Oh, and our Macchu Pichu trek, which you have to book months in advance.
S: At the start, we stayed a few nights here, a few nights there. But once we were on the road, we found there were times when we wanted to stay in one place for five days or a week. We could maybe have interspersed a few longer periods, such as volunteering for a few weeks in a specific place or a homestay. Also, people say that Colombia is incredible and we missed it out…. But, then we'd need even more time!
Do you think anything changed in your lives as a result of that trip?
P: Personally, I try to balance my work and home life better. Both of us were working pretty damned hard before we left. After spending that much time travelling and experiencing different things together, I definitely now take more time for both myself and for us.
Also, having breakfast in the morning before going to work! Before we went, I never did it and now I always will. It probably sounds strange, but I make time to enjoy breakfast in the morning rather than getting up five minutes before I have to leave and rushing out.
S: We've also been a lot better at exploring and appreciating what we have on our doorstep.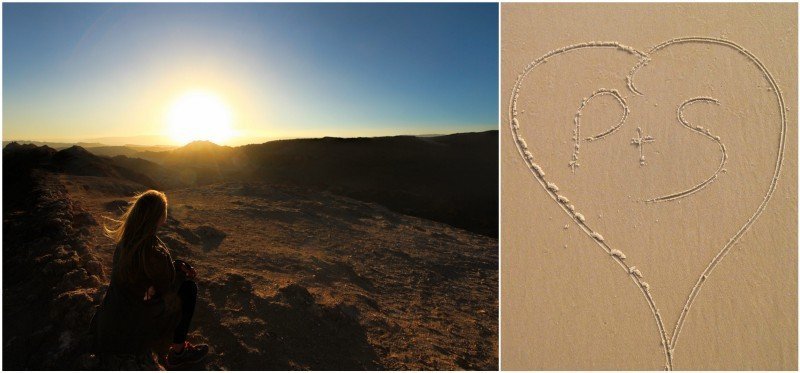 What one thing did you take that you couldn't have done without?
P: A decent rucksack and walking boots that will last. We actually took approach shoes, which you can wear for most climates and terrains.
S: A pair of leggings! They're always useful, and jeans take up so much room in your rucksack. Other than that, you can get everything over there, even antibiotics if you run into medical problems.
What did you take that you didn't even take out of your rucksack?
P: We definitely didn't use everything that we took!
S: One of the things that we took but probably didn't need was our huge, great Lonely Planet book. When I went travelling after school, you couldn't live without it. I guess it's quite cool for nostalgic reasons, but if we wanted to find out what to do in an area or where was best to stay, we mostly lived off Google and blogs.
Do you have plans to take more time out to travel in future? Where's next on the list?
P: Yes, we talk about this often, even with a little one on the way. I think either we'll go and live in a different country for a while (Australia, New Zealand or somewhere like that) or take time out and go travelling. Maybe when the children are a little older, between 4–6 years old, so they can remember more of the experience but it won't hamper school progression and friendships.
S: It would be a great experience. Firstly, we both have demanding jobs and we'd like to be able to spend quality time 100% as a family for a year. But also, getting our children to experience something that isn't inside a classroom would be really valuable. Personally, I've learnt so much about history, geography, geology, culture and language from travelling. I've been told that it's not difficult to home school at that age and you can access the school curriculum easily. No doubt, there are people who'd think we're insane…
Finally, what advice would you give anyone thinking about going on their own six month sabbatical?
P: You won't have any regrets. Don't worry about doing the wrong thing or which location to choose. Just be flexible.
S: Don't try to do everything and rush it. Allow yourself time to enjoy the experience, rather than letting things become a chore. That could mean spending five days somewhere, giving you the chance to while away a day in a coffee shop or wander around. That's what helped us to recuperate and really enjoy ourselves.
Don't think about it, do it!
A huge thank you to Pete and Sam for sharing their story and their beautiful photographs — and for being our very first interviewees!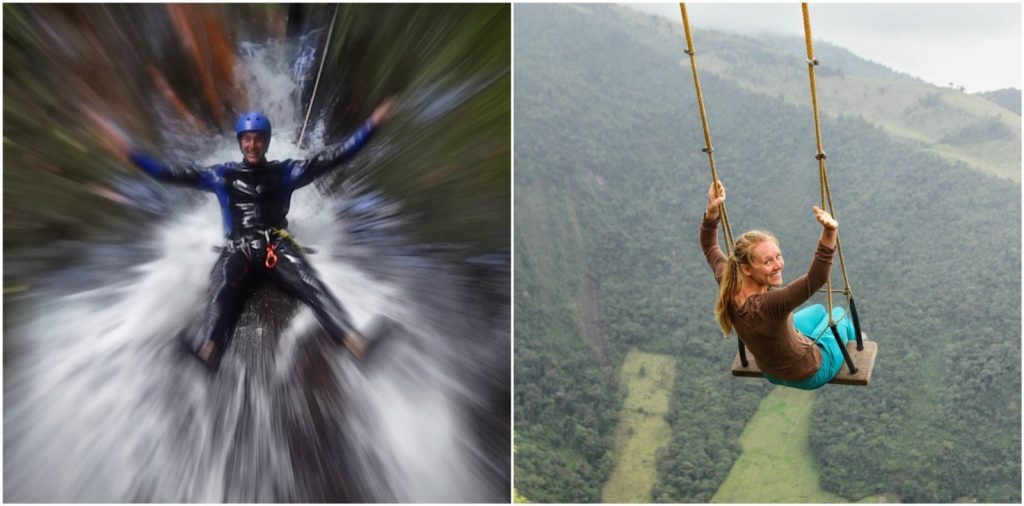 Take time out for a life adventure.
Do you dream about escaping your routine and going on a far-flung trip of your own? Whether it's 3 weeks or 3 months, we'd love to help.Book in a free exploratory call here to get started.
No immediate travel plans? Why don't you come over and join us on Instagram?
Team Faraway x